Fire Clean Up & Restoration
11/10/2017 (Permalink)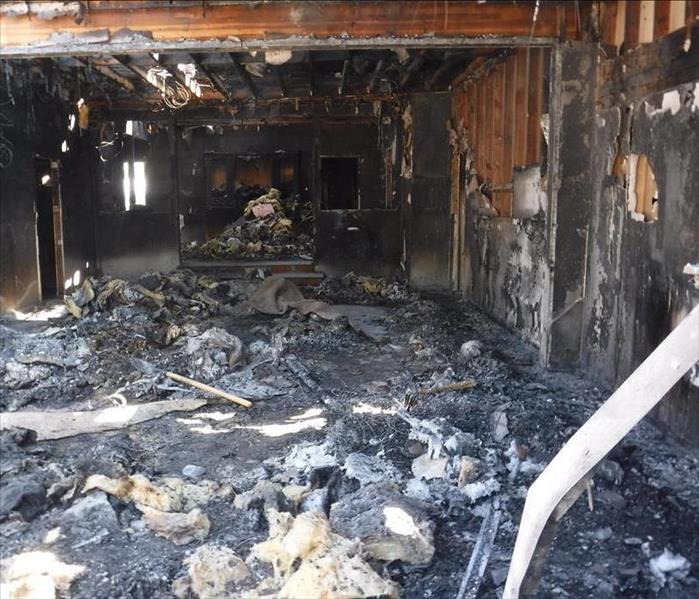 The aftermath of a major fire in a N.Hollywood home. SERVPRO of Hollywood Hills/Los Feliz was called out to complete the fire clean up & restoration
Quality Service You Can Trust. Fire can strike at any time. From small house fires to warehouse infernos, the effects can be devastating. Damage caused by smoke and soot accumulation can render any building uninhabitable. Our SERVPRO 24 hour emergency crew can help you recover from the extensive damage that fires can cause and get any building back up to your standards. We use an approach that doesn't just take into account the safety and usability of a building. We move to stop ongoing damage and restore the property to pre-fire conditions.
If the building has taken heavy fire damage, then the process of restoring it might be more extensive. Often, in cases of severe damage, some level of demolition is necessary. SERVPRO of Hollywood Hills/Los Feliz will keep the demolition as safe and as contained to the affected area as possible. After that, we will move ahead with the repair and reconstruction process.
During our work onsite, including the clean-up and pack-out, we will be conducting assessments across the entire home, office or industrial building. This helps us develop an understanding of where simple smoke and soot damage cleanup is appropriate, or where we need to begin a more serious reconstruction strategy. Damage assessments and estimates are provided alongside photographs so you understand what work is necessary. If the roof has suffered damage, this might also include a temporary roof repair so that the interior is kept covered and insulated from any environmental damage. From there, we can begin rebuilding the structure and restoring it.
Fire damage can lead to further water damage due to burst pipes and potential mold damage as a consequence. If any further damage is discovered, you will be informed and be given the option to restore these, as well. SERVPRO of Hollywood Hills/Los Feliz is always, "Ready for Whatever Happens".